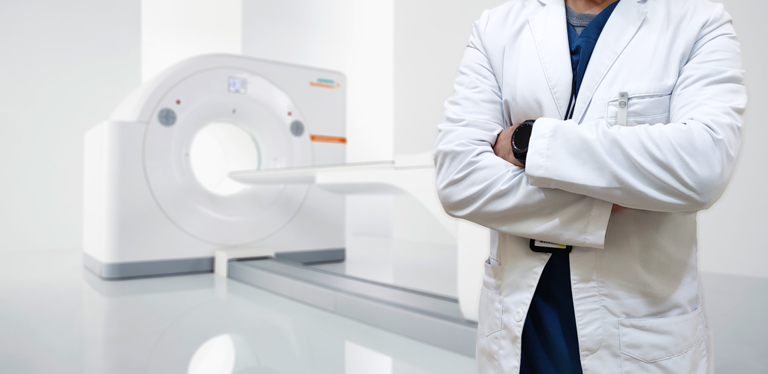 The combination of modalities is called hybrid imaging, and it is done to obtain fused images of the patient that are used in the diagnosis of tumors, infections, heart diseases, and others by combining a Positron Emission Tomography machine with a Computed Tomography machine in one device.
Each of the two devices provides different information, but complementary with each other. The Positron Emission Tomography machine provides functional information about areas with increased metabolic activity, while the CT scanner provides anatomical information that helps physicians decide whether a region with high metabolic activity is significant and the location of that activity.
PET/CT is used in diagnosing and staging of diseases and assessing the patient's response to some types of treatments. ¹⁸F-FDG is the most widely used radioactive material in PET/CT, it has a short half-life of (110 minutes) and an energy of 511 KeV.
❰❰ PET/CT Procedures
❰❰ RADIATION SAFETY
What is the expected damage from radiation?
Nasser AlMutairi
2020-12-08T10:32:23+03:00
When the body is exposed to radiation, tissue damage may occur, which in turn may damage DNA or chromosomes, increasing the risk of genetic mutations. When a fetus is exposed to radiation doses, it may cause abnormalities in an organ or irreparable damage and if the radiation dose is too high, it may cause the death of the fetus.
The radioactive dose used in diagnostic procedures in nuclear medicine is very low, unlike radiation treatments in which the amount of radioactive dose is high and this gives the desired effect on the tissues or organs when radiotherapy. That is why the patient must undergo a pregnancy test in the event of suspicion or if the pregnancy is uncertain before starting the therapeutic doses.